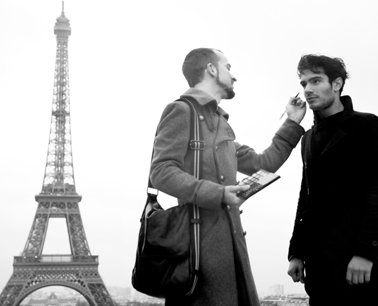 Charles Gillman Cosmetics
Created in 2008 in a small english town called Norwich, CGC, formally known as Charles Gillman Cosmetics, came to life with a simple idea accompanied by a passion for makeup artistry and making people feel good about themselves.
Following the launch of Charles' column 'Journals of a makeup artist' in the local newspaper, people caught on to his way of thinking, which soon created a following.
Charles moved back to London working in makeup artistry and business management at the same time. In 2011, Charles gave everything up for a shot at life as a makeup artist in the city of fashion, love and light, Paris.

I always wanted to do high fashion, creative makeup, throwing sparkly shadows in front of the camera at the right moment and painting bodies in luminescent colours, yet something changed this idea shortly after.
In 2009 I began to work for a charity called 'Look good feel better', a charity that sends makeup artists and beauty therapists into hospital to teach women going through cancer treatment how to apply makeup. It was not for the purpose of vanity, but to tone down redness, re-pencil the eyebrows, and of course, add some fun in to the equation. One day a lady, who was clearly in difficulty, turned to me as everyone was leaving and said, "Thank you... Really, thank you." I knew then, that through just doing what I thought was work, really, made a difference to how somebody felt.